The National Testing Agency (NTA) will conduct the NEET 2022 Exam to admit eligible students to undergraduate medical courses in medical institutions. On July 17, 2022, the National-Eligibility-cum-Entrance-Test NEET(UG) 2022 test will be offline.
NTA has released the NEET Exam Pattern 2022 on their official website, neet.nta.nic.in. The exam duration has been increased by 20 minutes to 200 minutes. There will be 200 questions on the exam; however, only 180 must be attempted.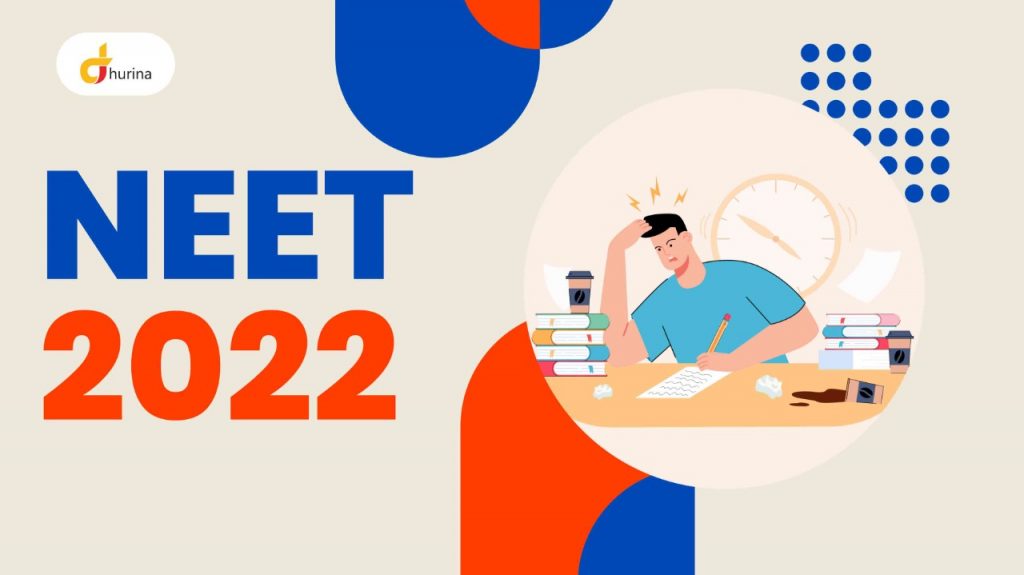 The NEET 2022 Exam is one of India's most challenging entrance exams, with lakhs of students taking it each year. Consequently, only a few hundred students pass NEET and gain admission to their selected medical colleges.
Exam Pattern for NEET 2022 – Overview
Every year, the National Testing Agency conducts the NEET (National Eligibility cum Entrance Test) for UG Medical courses. The test for NEET 2022 will be held on July 17, 2022. Check out the NEET Exam Summary in the table below.
Particulars
Details
Exam Conducting Body
National Testing Agency

Exam Name
NEET UG 2022
Courses Offered
MBBS, BDS, AYUSH, and other related Courses
Seats Offered
Admission of around 1.3 lakhs MBBS and BDS seats under 15% All India Quota and 85% State quota
NEET 2022 Exam Date
July 17 2022

Exam Timings
2 pm to 5:20 pm
Exam Mode
Pen-Paper Mode
Number of Questions
200 MCQs (180- Mandatory, 20 optional)
Marking Scheme

+ 4 for the correct answer
-1 for incorrect answer
Language options in NEET
13 languages: English, Hindi, Assamese, Bengali, Gujarati, Kannada, Malayalam, Marathi, Odia, Punjabi, Tamil, Telugu, and Urdu.
Total Marks
720 Marks
Official website
www.neetnta.nic.in
NEET 2022 Eligibility Criteria
Before the NEET registrations begin in 2022, aspirants should review the qualifying analysis to evaluate eligibility.
Qualifying Exam for NEET 2022
Must have passed 10+2 or equivalent with Physics, Chemistry, Biology/Biotechnology, and English as core subjects from a recognized board.
Class 12 or equivalent appearing aspirants are also eligible to apply for NEET.
Minimum Age Requirement for NEET 2022
Candidates must have completed 17 years on or before December 31, 2022.
Qualifying Marks
The percentage required in class 12 for the NEET 2022 exam differs for each category and may be found below. NEET eligibility marks in class 12 are solely considered for PCB subjects.
UR – 50%,
OBC/SC/ST – 40%,
PWD – 45%
Documents required for the registration of NEET 2022
All the necessary documents for filling out the Online Application Form must be scanned images in JPG/JPEG format for uploading as part of the online application submission. To avoid any errors or omissions, candidates must have the following papers scanned in the required size and format in advance:
Application Form document specification phase-1
Documents
Specifications
Size and Format
Specification for tool
Passport Photograph
80% face coverage, ears clearly visible, on white background
Size – 10 Kb to 200 Kb
Format – JPG
2.5 x 3.5 inches with 72 DPI
Postcard size picture
The photograph should not be with a cap or goggles.
4″x6″ (Size 10 kb – 200 kb)
4.25 x 3.5 inches with 72 DPI
Signature
White Background, Sign with a black pen, and the signature must not be in capital letters.
Size – 4 Kb to 30 Kb
Format – JPG
2.5 x 3.5 inches with 72 DPI
Left-hand thumb impression
If the left-hand thumb imprint is unavailable, a right-hand thumb impression can be used instead.
Size: 10 kb to 200 kb
2.5 x 3.5 inches with 72 DPI
Application Form document specification phase-2
| Documents | Specifications | Size and Format | Specification for tool |
| --- | --- | --- | --- |
| Class 10 passing certificate | The candidate should scan his/her Class X Passing Certificate for uploading | Size – 50 kb to 300 kb | 2.5 x 3.5 inches with 72 DPI |
| Category certificate | SC/ST/OBC/EWS certificate | Size – 50 kb to 300 kb | PDF format |
| PwBD certificate | Certificate obtained by the list of centers mentioned in the brochure | Size – 50 kb to 300 kb | PDF format |
| Citizenship certificate | Citizenship/Embassy certificate or any documentary proof of citizenship in PDF format | Size – 50 kb to 300 kb | PDF format |
How to apply online for the NTA NEET 2022?
Visit the official website and go to NEET Registration 2022
Fill out the Application Form
Uploading of scanned images
Pay the NEET application fee payment
Printing of confirmation page
Exam Fee
Candidates who wish to participate in NEET 2022 must pay the required examination fees when completing the Online Registration Form using any of the following payment methods: debit card, credit card, net banking, or UPI Mode of Payment.
| Category | In India | Outside India |
| --- | --- | --- |
| General | Rs. 1600/- | Rs. 8500 |
| General-EWS/ OBC-NCL* | Rs. 1500/- | Rs. 8500 |
| SC/ST/PwD/ Transgender | Rs. 1500/- | Rs. 8500 |
*At the time of verification, EWS candidates must submit their EWS certificates. Otherwise, their candidature could be revoked.
NEET Admit Card 2022
The National Eligibility Competitive Entrance Test or NEET 2022 admit card will soon be made available at neet.nta.nic.in by the National Testing Agency (NTA). The release date for the admission cards for 2022 has not yet been confirmed.
By providing a user ID and password, only the applicants who successfully registered can receive their NEET admission card for 2022. Candidates determined to be ineligible for the NEET UG entrance exam will not be provided with NEET 2022 admit cards. The NTA NEET 2022 admit card is an essential document that both candidates and officials will use at different stages during the admissions process.
NEET Syllabus 2022
The National Medical Commission (NMC) recommends the NEET syllabus for all candidates applying. Candidates taking the NEET 2022 exam should be familiar with the syllabus to ace the exam. The NEET syllabus for 2022 includes topics from the Class 11 and 12 curricula in Physics, Chemistry, and Biology.
NEET Physics syllabus 2022
In the actual exam, most applicants find NEET 2022 Physics challenging. The Physics NEET syllabus 2022 is provided below to help candidates prepare for the NEET 2022 examination.
Class XI
Physical-world and measurement
Kinematics
Laws of Motion
Work, Energy, and Power
The motion of the System of Particles and Rigid Body
Gravitation
Properties of Bulk Matter
Thermodynamics, Oscillations and Waves
The behaviour of Perfect Gas and Kinetic Theory
Class XII
Electrostatics
Current Electricity
Magnetic Effects of Current and Magnetism
Electromagnetic Induction and Alternating Currents
Electromagnetic Waves
Optics
Dual Nature of Matter and Radiation
Atoms and Nuclei
Electronic Devices
NEET 2022 Chemistry syllabus
Many students find the Chemistry NEET 2022 syllabus simple to study and score well on. The following are the topics from classes 11 and 12 Chemistry covered in the NEET 2022 syllabus.
Class XI
Some Basic Concepts of Chemistry
Structure of Atom
Classification of Elements and Periodicity in Properties
Chemical Bonding and Molecular Structure
States of Matter: Gases and Liquids
Thermodynamics
Equilibrium
Redox Reactions
Hydrogen
s-Block Element (Alkali and Alkaline earth metals)
Some p-Block Elements
Organic Chemistry- Some Basic Principles and Techniques
Hydrocarbons
Environmental Chemistry
Class XII
Solid State
Solutions
Electrochemistry
Chemical Kinetics
Surface Chemistry
General Principles and Processes of Isolation of Elements
p- Block Elements
d and f Block Elements
Coordination Compounds
Haloalkanes and Haloarenes
Alcohols, Phenols and Ethers
Aldehydes, Ketones and Carboxylic Acids
Organic Compounds Containing Nitrogen
Biomolecules
Polymers
Chemistry in Everyday Life
NEET syllabus for Biology 2022
NEET Biology, unlike the other subjects This is why, with such a large syllabus to cover, the NEET Biology syllabus becomes more critical.
Class XI
Diversity in Living World
Structural Organization in Animals and Plants
Cell Structure and Function
Plant Physiology
Human physiology
Class XII
Reproduction
Genetics and Evolution
Biology and Human Welfare
Biotechnology and Its Applications
Ecology and environment
After completing every topic mentioned in the NTA NEET syllabus, candidates should ideally test themselves. However, most students prefer coaching and tuition for their preparation. For the NEET Exam, we've started a crash course. Grab this course to guarantee your NEET selection.
Therefore, if you are looking for the same, then DHURINA is the right platform. At DHURINA, you will get a fantastic crash course for your NEET preparation.