For the recruitment of Rajasthan Forest Guard, candidates have to clear the written exam, PET & physical standard test, Interview, medical examination, and document verification. The RSMSSB Forest Guard Job Profile is given below:
It is the duty of a forest guard to protect the forest and the wildlife that falls under their supervision.
They look out for the forest resources.
Detecting forest offences.
They execute every duty allotted to them pertaining to forest and forestry work.
The job of Rajasthan Forest Guard is to keep forests safe from fire or anything that harms plants, make sure that anyone who violates rules gets punishment.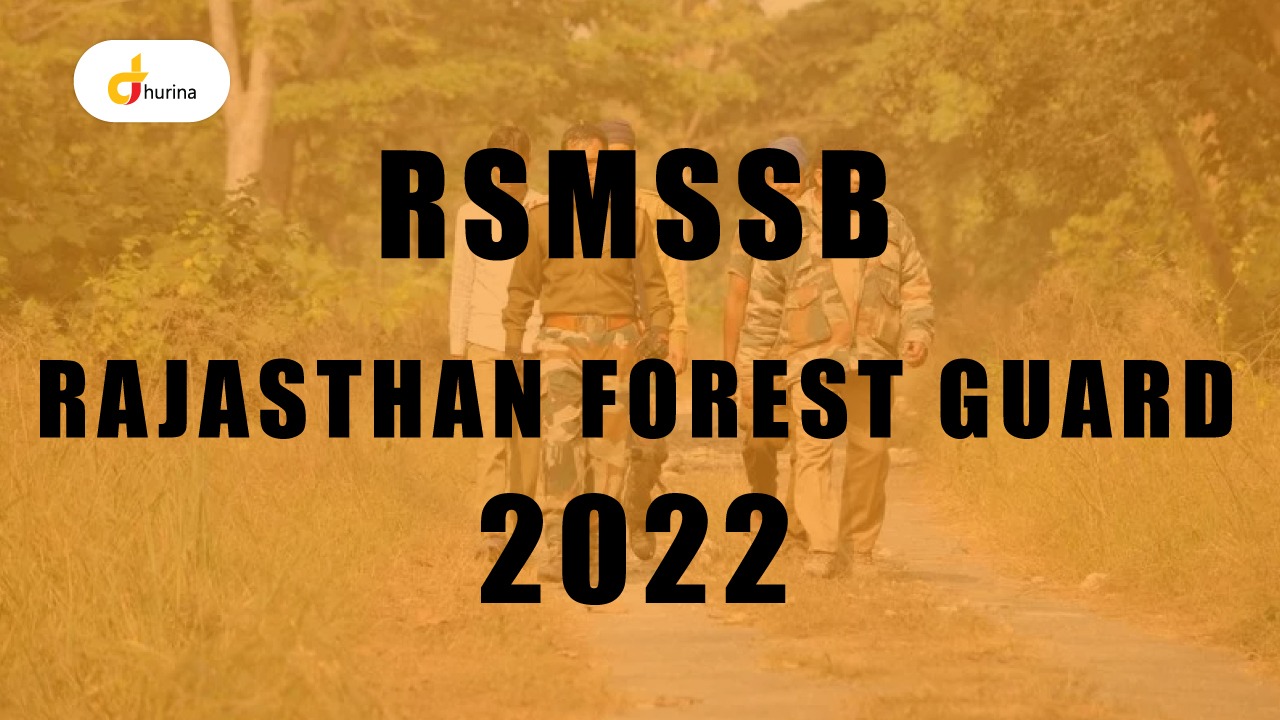 The main task of a Forest Guard is to inspect and take care of the reserved area of the forest. Rajasthan Forest Guard will be promoted after 2 years of job, salary also increases.
Forest Guard Selection Process
The Selection Process is conducted in five stages: Written Test, Physical Standard & Efficiency Test (PST & PET), Interview, Medical Examination, and Document & Character Verification. Candidates who qualify the Written Test are called for the PST & PET and so on for the next rounds of selection process.
The RSMSSB Forest Guard syllabus for the written test majorly includes subjects related to General Studies, Aptitude, Everyday Science, Social Studies, Culture & Art, and Current Affairs.
As per the RSMSSB Forest Guard Exam Pattern, the Written Test is conducted for 100 marks, and the Interview Test has a weightage of 10 marks.
Exam Syllabus for Forest Guard
The RSMSSB Forest Guard examination is divided into five parts. Written Test, PST & PET, Interview, Medical Examination, and Document & Character Verification. The questions for the Written Test are Everyday Science, History, Mathematics, General Studies, Current Affairs, Social Studies, and Culture & Art.
Subject
Syllabus
Everyday Science
Material, Scientific Reasons, Differences, Abbreviations, Units, Discoveries & Inventions, Measuring Tools, Making Decisions perspective to Science.
Mathematics
Fundamental Arithmetical Operations, Percentages, Ratio and Proportion, Simple Interest, Average, Discount, Number Systems, Computation of Whole Numbers, Decimals and Fractions, Relationship between Numbers, Partnership, Time & Work, Time & Distance and Use of Tables and Graphs, Mensuration.
Social Studies
Development, Importance, Political Aspects, Nature of Society, Changes.
Geography
Water, Resources, Minerals, Geography of Rajasthan and India, Area, Map, Population, Districts in Rajasthan, etc.
History
Palaces, Monuments, Freedom Movement, Important dates and years, History of Rajasthan & India
Historical places.
Culture and Art
Paintings, Major festival, Fairs, Culture, Art, Books.
Current Affairs
Latest Scientific Progress/Development, National/International Awards, Indian Languages, Books, Scripts, Capital, Currency.
Requirements for PST and PET
After qualifying the written test, students have to appear for PST and PET. There are a few Standards for the same. The requirements for the Rajasthan Forest Guard Exam are-
S.No

Particular

Male Candidates

Female Candidates

1.

Height

163 cms

150 cms

2.

Chest

a) Normal

b) Expansion

3.

Walk

25 kms in 4 hrs.

16 kms in 4 hrs.

For Forest Guard Only

4.

Sit Ups

25 round in 1 minute

–

5.

Shot put (4 KG)

–

4.5 mtrs

6.

Throw (Cricket Ball)

55 mtrs

–

7.

Standing Broad Jumps

–

1.35 mtrs
Exam Pattern for Rajasthan Forest Guard Exam
EXAM Pattern for the written test
The Written Test carries 100 marks.
There will be objective based questions in the paper.
Each question carries 1 mark.
Candidates will have 90 minutes in total to complete the Written Test.
| | | | | |
| --- | --- | --- | --- | --- |
| TYPE OF TEST | SUBJECT | NUMBER OF QUESTIONS | MARKS | DURATION |
| Multiple-choice Questions | General Knowledge specifically of Rajasthan | 100 | 100 | 90 minutes |
For more details, one can visit- https://forest.rajasthan.gov.in/.
Interview
The third round of the RSMSSB Forest Guard selection exam is called the Interview round. The State Board has set 10 marks for the Interview test. Candidates who qualify the Written Test and PST & PET, will be called for this Interview round of the selection process.
Vacancies for Rajasthan Forest Guard Exam

The re-opening form date for recruitment for 2022 has started in January and the exam will be held in March 2022. It is announced that there are approximately 2300 or more posts vacant this year for the Position of Rajasthan Forest Guard.
Admit Cards: Where to download and how?
1: Go to the official website of RSMSSB i.e. rsmssb.rajasthan.gov.in.
2: Open the home page and click on the Admit Card button.
3: Now click on Download Admit of Direct Recruitment of Forester.
4: Open the admit card page.
5: Now enter your required details login with provisional Id & Password.
6: Click on the Download Admit Card option.
7: Your admit card will appear in PDF Format you save it and take a print.
For more information- https://forest.rajasthan.gov.in/ or http://www.rsmssb.rajasthan.gov.in/.