At the state level, the Haryana Police Sub Inspector Recruitment examination is administered by the Haryana Staff Selection Commission or HSSC. Each year, the Haryana Police Board extends invitations to thousands of competent individuals to join the service. Interested and eligible individuals may register for the Haryana Police SI Recruitment exam. But they don't know what should be the exam preparation strategy to become a sub-inspector in Haryana Police. This article will explain all about the preparation for the Haryana Police Exam 2022.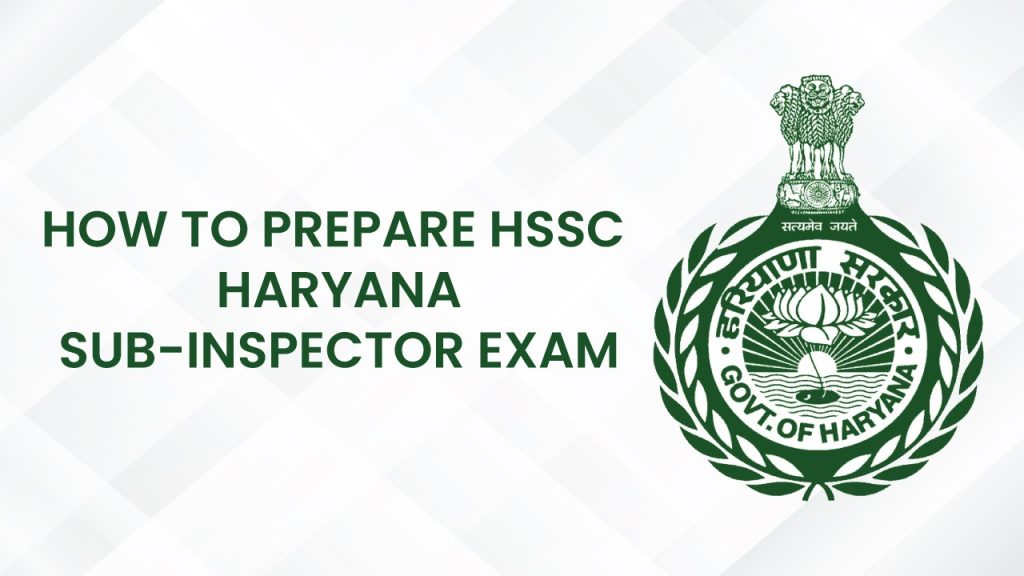 It will become easy for you to prepare for the Haryana SI exam after having a thorough understanding of the syllabus and exam pattern.
Haryana Police SI Recruitment Highlights
A preparatory list of each important date for the Haryana Police SI Exam 2022 is provided below:
| | |
| --- | --- |
| Exam | Haryana Police Recruitment 2022 |
| Exam Conducting Authority | Haryana Staff Selection Commission (HSSC) |
| Posts | Sub-Inspector (SI) |
| Total Vacancies | 465 |
| Location | Haryana |
| Language | English & Hindi |
| Application Mode | Online |
| Official Website | https://www.hssc.gov.in/ |
SI Exam Pattern & Syllabus 2022
Before starting the preparation, it is important to know every aspect of the Haryana Police SI test, as this will enable you to move quickly and finish the preparation. There are four stages to the Haryana Police SI examination.
Mode of Exam
Offline/OMR Based
Total Questions
100
Total Marks
80 marks (0.80 marks per question)
Number of Paper
Single Paper
Duration of Exam
90 mins.
Medium of Exam
Hindi/ English
Marking Strategy
0.80 marks are allotted for every correct answer
No negative marks for any incorrect answer
Haryana SI Preparation Books
Candidates can use the following reference books to help them prepare for the Haryana Police SI Exam Date. These books are widely available in both online and offline markets place. One can choose according to their requirements.
| Sr. | Book Name | Author Name | Publication House |
| --- | --- | --- | --- |
| 1. | Quantitative Aptitude for Competitive Examinations | Abhijit Guha | McGraw Hill |
| 2. | Quantitative Aptitude | RS Aggarwal | S Chand Publishing |
| 3. | Lucent's General Science | Lucent Publications | Lucent Publications |
| 4. | General Science for Competitive Exams | Disha Publications | Disha Publications |
| 5. | 14,000+ Objective Questions – General Studies | Manohar Pandey | Arihant Publications (3rd Edition) |
| 6. | 10,000+ Objective MCQs With Explanatory Notes For General Studies | Disha Publications | Disha Publications |
| 7. | Agriculture Science – Master Guide | Pushpendra Kumar Karhana | Arihant Publications |
| 8. | Agriculture At A Glance | R K Sharma | Astral (20th Revised & Enlarged Edition) |
| 9. | Animal Husbandry | John R. Campbell | Campbell Publications |
| 10. | Current Affairs – Events & Issues (2021) | Prabhat Prakashan | Prabhat Prakashan |
Important Sources for Preparation
There are numerous additional alternatives available that might help you improve your practice. The periodicals and newspapers that will assist you in passing the Haryana Police SI Examination are listed below.
Magazines and Newspapers: Kurukshetra, Yojana, Pratiyogita Darpan, and Ghatna Chakra. The Hindu, Mint, and Times of India, among other newspapers.
Solve previous year's Haryana Police SI Exam papers to understand the questions that will be asked throughout the exam.
You can either read the daily newspaper or go straight to Daily Current Affairs.
Preparation Tips for Haryana Sub-Inspector SI Exam
Examine the comprehensive preparation plan for the Haryana SI test and make sure you finish all the topics on time. To add value, you should also routinely practice mock exams and review the Haryana SI learning resources.
Revision is your best buddy
You must review the subjects you have already covered. Ideally, the revision for the Haryana Police SI exam should begin with prepared notes, practice exams, previous year's examinations, etc.
You should revise what you study on a daily, weekly, and on monthly bases. It will help you in retaining the information for a longer period.
Strength of last year's paper
It's important to read previous Haryana SI exams to gain knowledge of the subjects that are usually tested. Rather than studying for the Haryana SI exam subject by subject, this is the best strategy.
The previous year's paper will help you in understanding the exam pattern and difficulty level of the upcoming exam.
You become flawless with practice
Success depends on practice and revision. Consult solved papers from prior years and, if necessary, ask for assistance from them. Practice consistently until you feel assured.
Make your notes
When you make your notes, the idea is easier to comprehend. Review all the formulas, then use them to answer questions. You can trust brief notes in this limited amount of time.
Don't use Too many reference materials
review the essentials thoroughly before the test. In essence, Haryana Police SI tests students' conceptual understanding and their ability to use that understanding to solve problems effectively.
Too many different study materials will confuse you. First, you've to prepare a study material list and stick with it till the final results.
Time management
Answering one question in 1.5 hours will take less than a minute. To effectively manage your time, take multiple practice exams. It is necessary to move on to the next question if the current one is taking too long. It is recommended that each question is given between 30 and 40 seconds.
DHURINA wishes all the students the best of luck for upcoming exams !!!!