Is it possible to clear a competitive exam like the RAS Exam without tutors or coaching? This article will help you understand how to prepare for the Rajasthan Administration Exam RAS 2023.
The Rajasthan Administrative Services (RAS) exam is held to recruit candidates for the Rajasthan Administrative Services (RAS). The RAS is the high profile prestigious job of state government service; this is one of the jobs in which you can work full of your potential and serve the nation.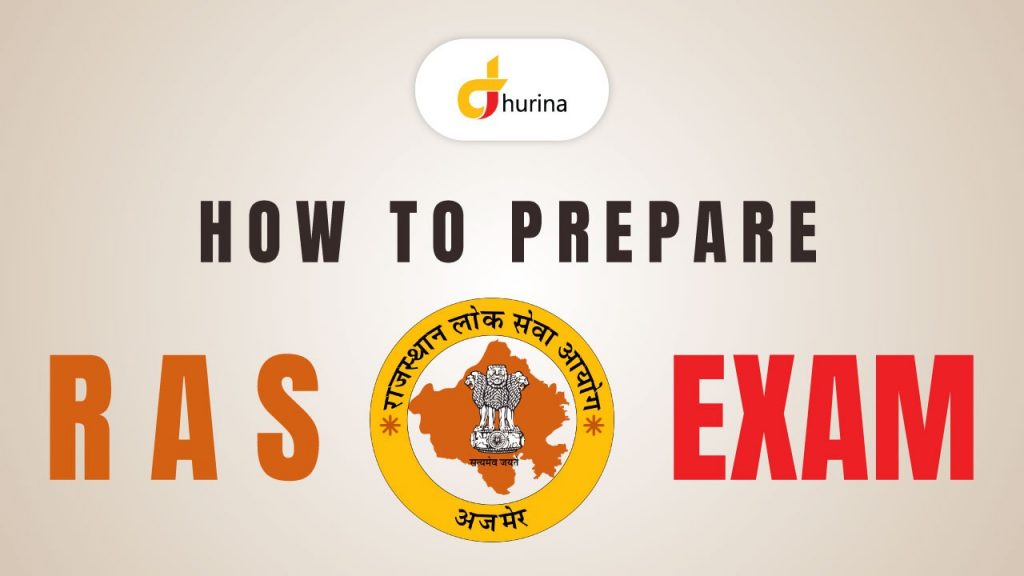 To pass the exam, you must first understand the RPSC syllabus thoroughly before beginning your preparation. Furthermore, the exam pattern is a critical part of the preparation for such an exam. According to the selection process, preliminary, Mains, and Interview/Personality Tests are the stages of the RPSC test. However, it is necessary to plan how to prepare RAS Exam.
How to Prepare for Rajasthan RAS Exam?
Understanding all areas of the RPSC RAS examination before beginning preparation is essential, as this will help select a quick pace and complete the preparation.
But first question is about the preparation pattern. We have to prepare for prelims, mains, or both?
Most students first prepare for the Prelims, and after qualifying for the prelims, they prepare for the mains exam. And get stuck in a loop of preparation. It should be understood that you are here to prepare and qualify the entire exam, not for 5 years preparation plan.
You do not have to wait until the prelims to prepare for the Mains. Instead, plan ahead of time for your GS subjects and continue to study them properly.
In addition, because this is a written exam, you should practice your writing abilities and speed. Finally, examine past years' question papers and create detailed and well-written sample responses. Calculate how long it takes you and practice appropriately. It's critical to ensure you can compose thorough responses within the allotted time.
The Rajasthan Administration Service has three stages of examination.
Preliminary Examination
Main Examination
Personality Test
A detailed understanding of the RAS exam pattern and syllabus will improve preparation and performance.
RAS Prelims Exam Overview
After understanding the exam pattern, one should also know the RPSC RAS syllabus and try to complete it within time so that he/she can do revisions later on.
The difficulty level is graduation level.
Objective-based paper is conducted for Prelims.
| Exam | No. of papers | Subjects | Time Duration | Total Marks |
| --- | --- | --- | --- | --- |
| Preliminary | 1 | General Knowledge and General Science | 3 hours | 150 marks |
Prelims-qualified candidates will be eligible for the RAS mains written exam.
RAS Mains Exam
The level of questions will be graduate-level, but the level of General Hindi and General English will be Senior Secondary.
There will be three questions: Short answer, Medium answer, and Long answer.
Short-answer questions will be awarded two marks per question with a word limit of 15.
Medium-answer questions will be awarded 05 marks with a word limit of 50.
Long answer questions will be 10 with a word limit of 100.
There will be four papers in Mains.
Syllabus for RAS Mains
PAPER
SUBJECT
TOPICS
MARKS PER QUESTION
TOTAL MARKS
PAPER-1
General Studies I
Unit 1 – History
Unit 2 – Economics
Unit 3 – Sociology, Management, Accounting & Auditing
02
05
10
50
80
70
PAPER-2
General Studies II
Unit 1 – Administrative Ethics
Unit 2 – General Science & Technology
Unit 3 – Earth Science (Geography and Geology)
02
05
10
30
70
100
PAPER 3
General Studies III
Unit 1 – Indian Political System, World Politics, and Current Affairs
Unit 2 – Concepts, Issues, and Dynamics of Public Administration and Management
Unit 3 – Sports and Yoga, Behavior and Law
02

05

10
50

80

70
PAPER 4
General Studies IV
Grammar and Usage
Comprehension, Translation, and Precis Writing
Composition & Letter Writing
–
70
80
50
Study Material for RAS Preparation.
Textbooks are an important part of the RAS exam preparation. The following is a list of some of the recommended textbooks for each subject:
History
NCERT: Ancient History by R. S. Sharma
NCERT: Medieval History by Satish Chandra
NCERT: Modern History by Bipin Chandra
Spectrum: A brief history of Modern India
Architecture & Culture of India
Indian Art & Culture by Nitin Singhania
Geography
Maps of Rajasthan (Rajasthan Manchitravali) by Mumal
RajRAS: Geography of Rajasthan
NCERT – Class XI & XII – New Books:

Fundamentals of Physical Geography – Class – 11
India Physical Environment – Class – 11
Fundamentals of Human Geography – Class – 12
India People & Economy – Class -12

Indian and World Geography by Majid Hussain
Environment: Shankar IAS Book
Economics
The economy of Rajasthan by Laxmi Narayan Nathuramka
NCERT: Macro Economics
NCERT: Micro Economics
Economy by Ramesh Singh (11th Edition)
Reasoning Ability
Reasoning by RS Agarwal
A new approach to reasoning Verbal & Non-Verbal by B.S. Sijwali & Indu Sijwali
Quantitative Aptitude by RS Agarwal
Follow standard books to clear the basics of the RAS Exam
After understanding the exam pattern and syllabus, the second important thing for RAS preparation is the sources to complete the curriculum. It should be noted that applicants should only follow authentic sources to cover the syllabi.
NCERT Books of class 6th to 12th.
Rajasthan Adhyayan Bhag I to IV.
Polity by Laxmikant.
Rajasthan AajTak by Dr. Dinesh & Pushpa Sharma.
Economy book by Ramesh Singh.
A disciplined Schedule is Crucial for RAS Preparation.
Now you know the syllabus and exam pattern; here, making a timetable to cover this vast syllabus is crucial. By making a routine chart, applicants will know what to prepare and how to prepare for RAS. After making the daily schedule, one should allot time to each section to devote equal time. There should be a gap between each hour of the study session so the mind can be rejuvenated.
Also, attempt test series from time to time to evaluate your exam preparation.
Being Adaptive to Online Studies
It is the need of the moment to adapt to studying through online mode. There are various YouTube channels and mobile applications that might be of help. Although, while taking help from online material, you must remember that tons of information might distract you from the focus areas.
You can take help from these materials, along with books. You can buy our high-quality, dedicated, low-cost courses for preparation, like the complete course by Subhash Charan, RAS Muktra Rao, and the team.
Revision and Mock tests
Revision is a must for RAS aspirants due to the vast syllabus for the examination. Revising the concepts multiple times allows one to recall the topic quickly while appearing in the exam. To perform well in the exam, one should regularly solve the online RAS mock test at home. This practice will develop their confidence before appearing in the real-time exam.
RAS Preparation Tips
The Rajasthan Administrative Service (RAS) exam is a competitive exam conducted by the Rajasthan Public Service Commission (RPSC) to recruit candidates for various administrative posts in the state of Rajasthan. The exam is considered one of the state's most prestigious and challenging. It is a highly competitive exam and requires a lot of hard work, dedication, and a well-planned strategy to crack it.
This article will take a detailed look at how to prepare for the RAS exam.
Understand the RAS Exam Pattern and Syllabus
The first step in preparing for the RAS exam is to familiarize yourself with the exam pattern and syllabus. The RAS exam is divided into the preliminary and the main exams. The preliminary exam is a screening test, and those who qualify the prelims will be eligible to appear for the main exam. The main exam consists of two papers: General Studies and General Aptitude Test.
The syllabus for the RAS exam covers a wide range of topics such as history, geography, polity, economy, and current affairs. It is essential to understand the syllabus to know what topics you need to focus on.
A study from Recommended Books for RAS foundation.
It is essential to study from the recommended books for the RAS exam. These books are written by experts and comprehensively cover the entire syllabus. Some of the recommended books for the RAS exam include:
History of Rajasthan by J.L. Mehta
Rajasthan: Its People and Their History by R.K. Sharma
Indian Polity by M. Laxmikanth
Indian Economy by Ramesh Singh
Current Affairs by various authors
Practice with Previous Year's Papers
Solving previous year's papers is an excellent way to understand the exam pattern and difficulty level of the RAS exam. It also helps get an idea of the type of questions asked in the exam. Analyzing your performance in each mock test and working on your weaknesses is essential.
Take Mock Tests
Regularly taking mock tests is crucial to evaluate your progress and identify areas where you need to improve. It also helps in getting used to the actual exam environment and managing time during the exam.
Focus on Current Affairs
Current affairs are vital to the RAS exam, and staying updated on current events is essential. Reading newspapers and magazines regularly and following online news portals is advisable.
Revise Regularly
Revising what you have learned regularly is crucial to retain information in your memory. It is also essential to revise the topics you have studied in the past, as the questions in the RAS exam are often repeated.
Stay Motivated
Preparing for the RAS exam can be a long and challenging process. It is essential to stay motivated throughout the journey. It is also important to remember the end goal and why you decided to take the exam in the first place.
In conclusion, the RAS exam is challenging, but with a well-planned strategy and hard work, it is possible to crack it. It is essential to understand the exam pattern and syllabus, create a study plan, study from recommended books, practice with previous year's papers, take mock tests, focus on current affairs, revise regularly, and stay motivated. Additionally, it is crucial to maintain a balance between your studies and other aspects of your life, such as your physical and mental health.
Another essential aspect to keep in mind is time management. Make sure you allocate enough time for each subject and do not spend too much time on any topic. It is also important to take regular breaks to avoid burnout.
Another way to prepare for the RAS exam is to join a coaching institute. Coaching institutes provide:
A structured study environment.
Expert guidance.
A community of like-minded individuals who are also preparing for the exam.
It is also an opportunity to get personalized feedback and to have your doubts cleared by experts.
Having a positive attitude and not getting bogged down by setbacks is also essential. It is normal to face difficulties and make mistakes, but it is important to learn from them and to keep moving forward.
To summarize, the RAS exam requires hard work, dedication, and a well-planned strategy to crack it. By following the tips and guidelines mentioned in this article, you will be well on your way to preparing for the RAS exam. Remember to be consistent and persistent in your efforts and stay focused on clearing the exam.
Best wishes for your upcoming exam.