The Rajasthan Public Service Commission (RPSC) is all set to conduct the RPSC RO EO Exam 2023 for the recruitment of Executive Officers (EO) and Revenue Officers (RO). This highly competitive exam offers an excellent opportunity for candidates seeking a government sector career.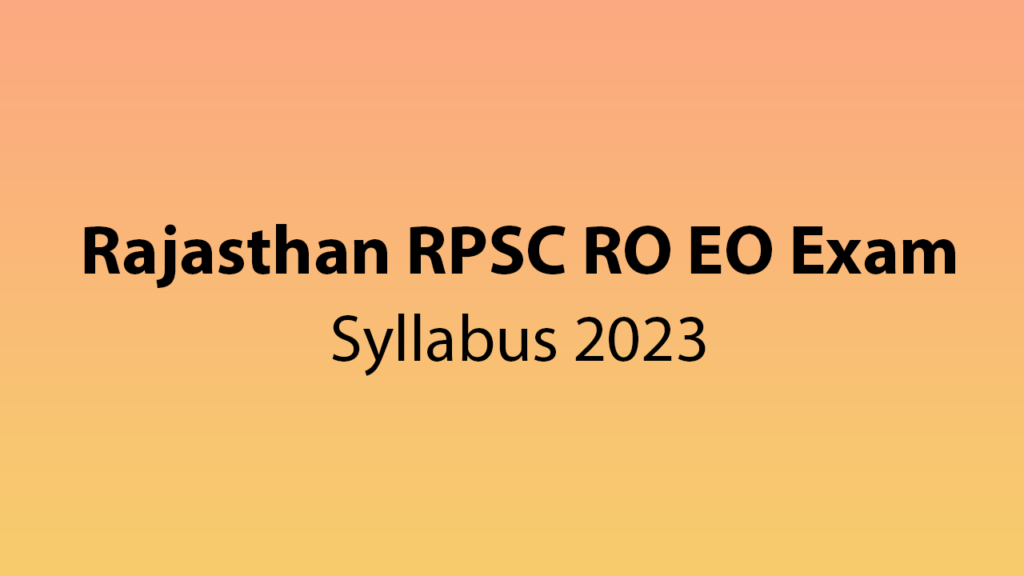 The RPSC RO EO Exam 2023 is a three-stage examination process that tests the knowledge and skills of candidates in various areas such as General Knowledge, English, Hindi, Statistics, Economics, and Mathematics. The exam will be conducted in multiple stages, including a written exam, a skill test, and an interview. The exam aims to select the most suitable candidates who possess the required skills and knowledge to work as Evaluation Officers and Review Officers in the government sector.
RPSC RO EO Exam Pattern 2023
The RPSC RO EO Syllabus 2023 is designed to select candidates through a competitive examination process that consists of objective-type questions. The exam paper will be worth 120 marks, and candidates will have 2 hours to complete it. It is important to note that there will be negative marking in the exam, with 1/3 mark deducted for each incorrect answer the candidate gave. Therefore, candidates are advised to carefully read and understand the questions before answering them to avoid losing marks due to incorrect responses.
To prepare for the RPSC Revenue Officer Recruitment exam, candidates must familiarize themselves with the RPSC RO EO Exam Pattern. This includes understanding the type of questions, section-wise weightage, marking scheme, and other details. All the necessary details of the RPSC Revenue Officer Exam Pattern are provided below for the candidates' convenience. By thoroughly understanding the exam pattern, candidates can effectively plan and manage their exam preparation, increasing their chances of success.
| | | |
| --- | --- | --- |
| Section | Topics | Marks |
| A | General Knowledge (Indian Constitution, Polity and Governance, and History, Geography, Art, and Culture of Rajasthan) | 80 |
| B | Rajasthan Municipality Act 2009, Regulations & Policies related to Urban Bodies | 40 |
| Total | | 120 |
RPSC Revenue, Executive Officer Syllabus 2023.
Below are all the syllabus topics of the RPSC Executive Officer, Revenue Officer Syllabus 2023. Focusing on the sub-topics listed below is advisable, as they will help candidates score more marks in the exam. The RPSC Executive Officer Syllabus 2023 can be downloaded for free by interested candidates. We have provided a direct link to access it with ease. Candidates can begin their exam preparation with the help of this RPSC Revenue Officer Syllabus 2023.
General Knowledge Of Rajasthan & Current Affairs
Indian Constitution, Political System, and Governance System
Current Affairs
Princely States of Rajasthan and British Treaties, People's Movement of 1857
Major sources of Rajasthan's history Integration of Rajasthan Mughal
Rajput relations Major features of architecture Religious movements and folk deities
Important historical tourist places Major dynasties of Rajasthan and their achievements
Major paintings, styles, and handicrafts of Rajasthani language and literature Major Works,
Regional Dialects, Peasant and Tribal Movement, Prajamandal Movement
Major Prehistoric Civilizations of Rajasthan
Environmental and Ecological Issues
Mineral Resource
Status and Climate Expansion
Irrigation Projects, Multipurpose Projects
Main Physical Departments – Desert Region, Aravalli Hill Region, Plain Region, Plateau Region
Forest and Wildlife Conservation
Animal
Agriculture – Climate Region and Major Crops
Soil
Transport
Natural Vegetation
Desertification, Drainage System, Water Conservation
Rajasthan Municipality Act 2009 – RPSC RO EO Syllabus
Rajasthan Municipalities Act, 2009 Definitions.
Constitution and Government of Municipalities
Conduct of Business and Ward Committee
Municipal Property
Municipal Finance and Municipal Fund
Accounts and Audit
Municipal Revenue & Borrowings
Commercial Projects, Private Sector Participation Agreements, and Assignment to other Agencies
Urban Development and Town Planning
Municipal Powers and Offences
Prevention of Defacement of Property
The prosecution, Suits, etc.
Control
Staff
Rules, Regulations, and Bye-Laws
Miscellaneous
Syllabus 2023 PDF Download Link – RPSC RO EO Exam
Download Syllabus PDF and Official Notification PDF through the links provided below.