Universities across Rajasthan conduct PTET or Pre Teacher Eligibility Test once every year. The exam provides admission to candidates in courses (B.Ed, BA B.Ed, and BSc B.Ed). It is an offline mode exam(pen and paper). This article will explain how to prepare for the Rajasthan PTET Exam.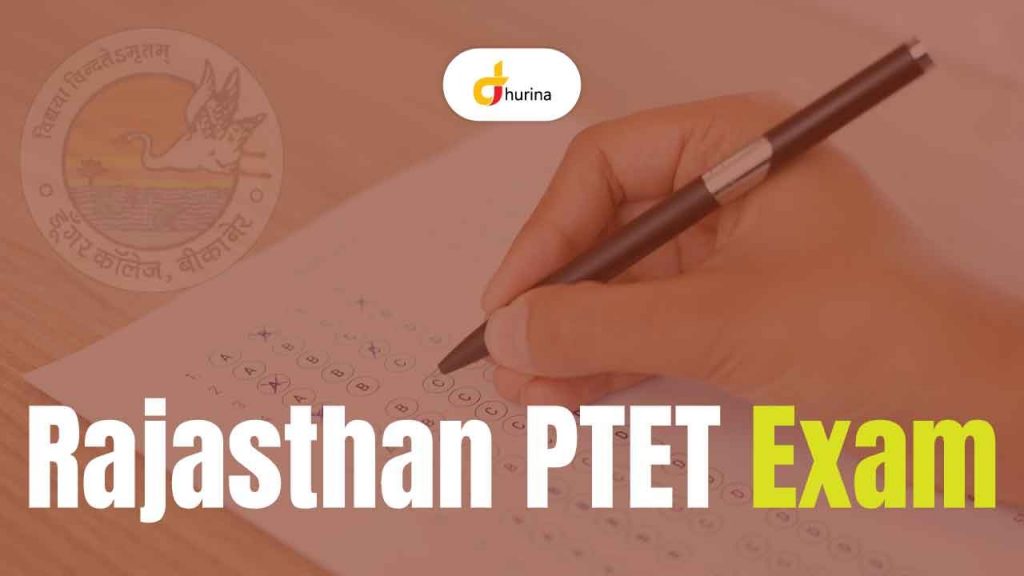 In order to apply, the aspiring candidates need to fill out and submit the online application form. Aspirants have to note that applicants from Rajasthan will fill 95% percent of the total seats. Rest 5% of the total seats are available for all Indian candidates. In this article, we have covered for you all that you need to know for appearing for the PTET Exam.
Syllabus for PTET Exam
When preparing for PTET Exam, one has to have detailed knowledge of the syllabus that is covered in the examination. Here are the important topics, sub-topics, subjects, sections, and chapters that have great importance for PTET 2022:
Mental Ability- Reasoning, Imagination, Judgement & Decision Making, Creative Thinking, Generalization, Drawing inferences etc.
Teaching Aptitude- Social Maturity, Leadership, Professional Commitment, interpersonal Relations, Communication, Awareness.
General Awareness- Indian History & Culture, Current affairs (national & International), Knowledge about Rajasthan, Environmental awareness, India and its natural resources, Indian History & Culture, Great Indian personalities (Past and Present), Current affairs (national & International).
Language Proficiency- Vocabulary, Functional Grammar, Sentence structures, Comprehension.
Important dates for PTET Exam
The Exam dates are announced yet; it will likely be held in May. The dates will be notified by the end of this month or at the beginning of February.
| | |
| --- | --- |
| Important Events | Important Dates |
| Online Form Availability (Pre B.A. B.Ed./B.Sc B.Ed.) | January 2022 (from the 2nd week) |
| The Last Date to submit the form and fees for the application | March 2022 |
| The online Application process for B.Ed 2nd year commencement-PTET Exam | January 2022 |
| Last date to submit application form & fees (B.Ed. 2 year PTET) | In April 2022 |
| Admit Card Release | In May 2022 |
| Exam Date for 2022 | In the month of June 2022 |
| Result Declaration | June 2022 |
| PTET Counselling commencement | June 2022 |
Exam Pattern for PTET Exam
The exam pattern for 2022 is as follows:
Mode of Exam: Offline
Duration: 3 Hours
Type of questions: Objective based questions
Medium: English and Hindi
Total no. of questions: 200 questions
Total Marks: 600 marks
Marking Scheme: No negative marking . For every correct answer, 3 marks will be awarded.
How to Prepare?
Understanding the syllabus: It is essential to know about the complete syllabus of the exam. This helps in having a clear idea about the important topics to study for the exam.
Preparing a schedule: Candidates should prepare a proper study schedule and sincerely abide by it. Making a proper schedule and sincerely abiding by it is very important to prepare thoroughly.
Knowledge of Exam Pattern: Having a clear knowledge of exam pattern helps in strategizing the whole exam paper. By knowing the exam pattern, one knows how to manage the time and prepare for the exam.
Practicing previous year paper: Candidates should excessively practice the previous year exam paper and practice them as many as they can, so that they can increase their speed and be able to solve the and finish the paper within the given time.
Enhance the thinking capacity: As PTET also have mental and logical reasoning sections, so the candidates are advised to practice more and more reasoning question so that they develop their thinking according to it.
Revision: It is very necessary to revise all what is studied at the last. Revision helps in memorizing and remembering all what is being studied already.
PTET is a highly competitive exam in nature as every year, lakhs of candidates appear for it. So in order to succeed, one should study from the right sources, some of the best books available for the PTET Exam are-
Learning and Teaching (ENGLISH MEDIUM) –  By Dr. SC Oberoi
Lakshya PTET Pre B.ED
Complete Guide for sure success PTET Rajasthan Paperback
Mathuriya Math With Reasoning by RAM NIVAS MATHURIYA
Lakshya Rajasthan GK, Part-1: Complete Geography & Economy by Manu Prakashan
A Modern Approach To Verbal & Non-Verbal Reasoning by R.S. Agrawal