The Kendriya Vidyalaya Sangathan (KVS) coordinates the KVS recruitment drive to administer the exam and choose candidates for teaching and non-teaching positions. Candidates can sign up for the KVS Exam 2023 if they want to begin a career as a teacher, librarian, administrator, vice-principal, or clerk. Students will find all the information they need about how they can prepare KVS PGT exam 2023.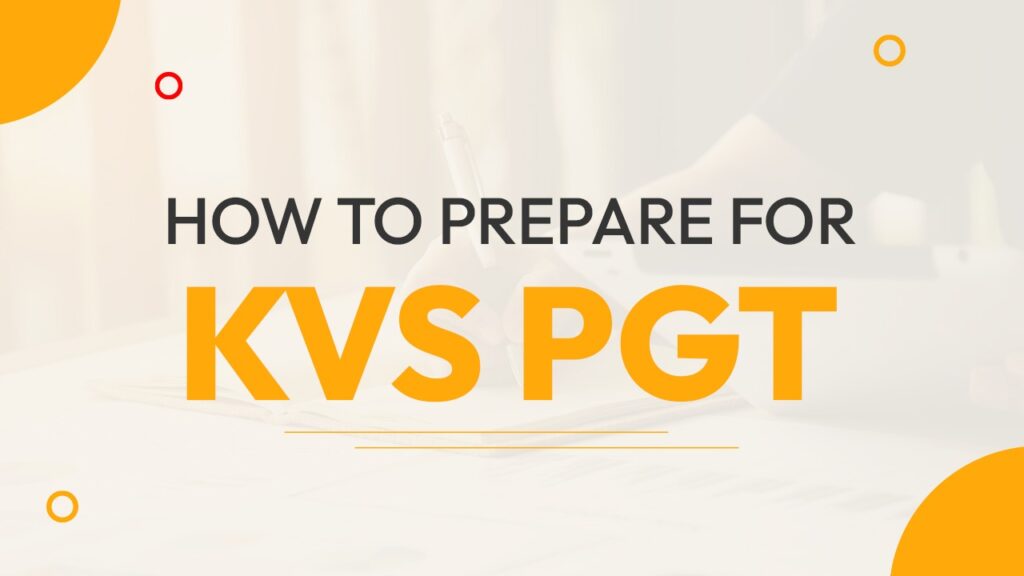 KVS Exam Highlights 2023
Aspiring candidates can review the following table for the important highlights of the KVS Exam 2023:
| Particulars | Details |
| --- | --- |
| Name of Organization | Kendriya Vidyalaya Sangathan |
| Total Vacancies | Various |
| Type of job | Central Government jobs |
| Job roles | Teacher (PGT, TGT, and PRT) |
| Registration mode | Online |
| Job Placement | Anywhere in India |
| Official Website | www.kvsangathan.nic.in |
Essential Books for KVS Exam 2023 Preparation
Books are the primary key to getting the best marks in the exam. Using the top KVS books for exam preparation can help exam success. You can ensure a successful exam performance using the best books for KVS preparation. Include the best books that cover the most important topics in each section in an organized manner. The following books are the best for KVS preparation:
| Book Name | Author / Publication |
| --- | --- |
| Objective General English | SP Bakshi |
| Logical reasoning | Dr. R.S Aggarwal and publication is S. Chand. |
| Quantitative Aptitude | Dr R.S Aggarwal and publication is S. Chand. |
| Computer Awareness | Arihant Publisher |
| General Hindi and Concise Grammar – An Indispensable Guide for all Competitive Exams | Dr. Brij Kishore Prasad Singh |
| Idioms, Phrases & Proverbs with Hindi Meanings | H S Bhatia |
| General Knowledge | Manohar Pandey |
| Analytical Reasoning | MK Pandey |
| Non-Verbal Reasoning | BS Sijwali & Indu Sijwali |
Undoubtedly, the study material is essential to prepare for any competitive exam, and books are the best materials for the examination. It is one of the critical steps for candidates to become familiar with the important books for preparation. Although many books are available in the market, picking the right one is necessary. Moreover, the books listed above that cover the entire KVS syllabus have been recommended by our experts.
Important Points to keep in mind while preparing the KVS PGT exam 2023
Candidates should remember a few essential things while preparing for the KVS exam 2023. Let's have a look at the list given below:
Determine Your Strengths and Weaknesses
Analyzing your strengths and weaknesses for exam topics is crucial when preparing for the KVS exam. It could help with KVS exam preparation by letting candidates know which topics to concentrate on to do well on the test.
Create a Perfect Study Plan
Make a schedule and stick to it to finish the syllabus for the upcoming exam. A successful KVS PGT exam preparation plan can help you beat the competition. Create the ideal KVS study schedule and try to stay focused on it.
When you create a study plan, you can quickly sort out your things and work accordingly. In case of confusion about which topic you should cover first, the study material will solve this problem, and you can prepare for your exam systematically.
Include KVS past year's exam questions.
When candidates prepare for the KVS exam, they are worried about the exam pattern. If you face the same thing, you can practice with the previous year's question papers. So, you can able to understand the exam pattern is practical. When practicing the previous year's question paper, you can also learn about your paper-solving speed.
Solving practice papers gives you a real-time exam feel, and you can manage your preparation according to it. Let's discuss the top reason why solving the previous paper is important:
It helps in understanding the challenges
One of the best revision techniques for exam
Boost your confidence
Give a reality check on time managerial skills.
Learning about your strengths and weaknesses
Recognize the level of difficulty
It's critical to understand the difficulty level in each section of the KVS exam as you study for it. Candidates can gain an understanding of this by completing papers from prior years. It gives you an idea of the difficulty of the exam's questions, and you can use that information to assess your own preparation and determine how much more you need to study to do well on the exam.
Work on your Time Management Skills
Time management is one of the significant parts of exam preparation. Candidates get excellent benefits when they do time management for everything. It is essential to prioritize all your stuff when preparing for competitive exams.
Long-term benefits come from having a schedule for how you approach the day and planning your activities. You will only become more stressed if you lack time management. You will have to give up a fulfilling life, leading to a decline in your mental, emotional, and physical health.
One of the essential things is avoiding multitasking. It will only give you stress, and you will not be able to complete your tasks on time.
KVS Exam Preparation Tips & Tricks
Candidates must follow a few of the most useful KVS exam preparation advice and strategies if they want to pass the KVS PGT 2023 exam. To prepare KVS PGT exam properly, use some of the tips listed below:
Every day, make an effort to finish more quizzes.
Make it a routine to take one practice exam every day.
Practice with the question papers from the previous year because revision is crucial for increasing your marks.
The most critical component of the English course is the grammar component, which is also the key to improving grades in this area.
Do not answer any questions over the allotted time during the exam. Don't spend too much time on a single question if you get stuck; instead, move on to the following.
Don't dismiss any topic because every topic is essential.
There is no negative marking, so answer all of the questions in the exam.
DHURINA wishes all the best for the upcoming exam.