The JPSC Exam 2022, also called the Jharkhand Civil Services Exam 2022, will be held and organized by the Jharkhand Public Service Commission. In accordance with Article 315 of the Indian Constitution, JPSC administers the Civil Service Exam to select candidates for administrative positions in Jharkhand. In this article, students will learn everything about JPSC Exam 2022.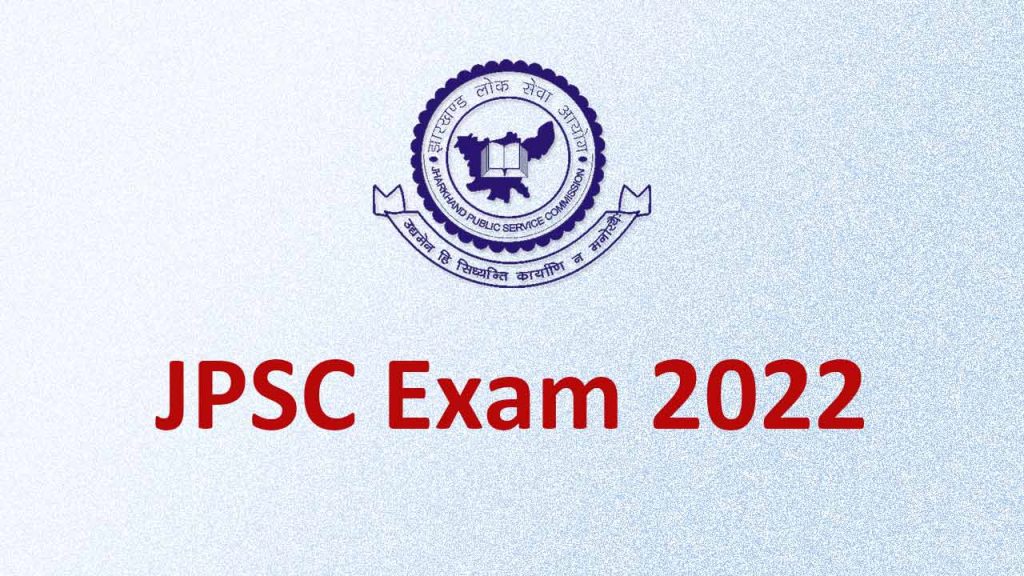 A prospective applicant who intends to sit for the JPSC Combined Civil Services examination in 2022 must prepare as soon as possible and become familiar with the JPSC Syllabus and Exam pattern.
JPSC Exam 2022 Highlights
The civil services examination is typically held by JPSC once a year. Additionally, it is used to find Class I and Class II officers for the state. The JPSC Civil Services Exam is divided into two phases, the preliminary and the main. And after going through these various stages of examination, the best talents are chosen to serve at the highest level. Candidates can go through all the important details given below in the table:
Particulars
Details
Name of the Organization
Jharkhand Public Service Commission
Name of the Exam
Jharkhand Combined Civil Service Exam
Exam Level
National
Date of Prelims Exam
May 2022
Date of Main Examination
September 2022
Selection Process
Preliminary Exam
Main Exam
Interview
Frequency
Annual
Mode of Application
Online
Language
Hindi and English
Official Website
jpsc.gov.in
It is very important to understand the proper exam pattern and syllabus to get the best marks in the examination. Students should start preparing for the exam after understanding essential highlights.
Exam 2022 Eligibility Criteria
Before applying for the JPSC Exam, eligibility must be verified. To be eligible to apply for the JPSC Exam 2022, individuals must meet the required age and educational requirements. The complete specifics of the JPSC eligibility requirements are available here for students to check.
Age Criteria:
Jharkhand Police Service requires candidates to be at least 20 years old. The minimum age requirement for other services, such as Jharkhand Finance Service and Jharkhand Labour Service, is 21 years.
JPSC Age Relaxation:
The JPSC 2022 exam's age-relaxation requirements are as follows. It's important to remember that Jharkhand residents are the only ones who can use age relaxation.
| Category | Maximum age |
| --- | --- |
| BC- 1 and 2 Candidates | 37 years |
| Female Candidates (unreserved) | 38 years |
| Unreserved Candidates | 35 years |
| SC and ST both female and male candidates | 40 years |
| OBC candidates | 35 years |
Qualification:
The required minimum educational background is a degree from an Indian university. Any additional qualification from an accredited Indian university, equivalent to a three-year degree, is also allowed.
How to Apply for JPSC Application Form 2022?
Candidates interested in participating in the Jharkhand managerial administrations should register for the JPSC exam online. On the official website, candidates can download the application form.
Visit the official website of JPSC at jpsc.gov.in
Click on new registration and complete it.
Log in using your registration number and password, and click on apply now.
Upload all the necessary documents and submit them.
Pay your application fees online through the provided options.
Print the application for future reference after completing the fee payment.
Candidates cannot submit the JPSC online application form without payment of the application fee. All required fields on the application form must be filled out completely and accurately by candidates. Before submitting the completed application structure, applicants should print a copy for their records.
JPSC Application Fee
The application process can't be finished without the applicants paying the application fees. The following list includes the JPSC 2022 Application Fees for various categories.
| Category | Fee of Application |
| --- | --- |
| General category | Rs.600/- |
| OBC candidates | Rs.600/- |
| Candidates applying who are not from Jharkhand | Rs.600/- |
| SC and ST candidates | Rs.150/- |
Candidates can check all the fees of application with different categories.
JPSC Exam Pattern 2022
There are three tiers in the JPSC exam. The final selection of the applicants must pass the Preliminary, Main, and Interview. The JPSC exam pattern states that applicants who pass the preliminary exam are shortlisted for the main exam, and those who pass the main exam are invited to the Interview. The final decision is based on merit.
JPSC Prelims Exam
There are 200 questions on the preliminary exam, which is an offline test. The Prelims exam lasts for a total of two hours. The two papers for this stage are General Studies 1 and General Studies 2. Applicants must answer 100 questions worth two marks each in each exam.
| Paper Name | Total Questions | Total Marks |
| --- | --- | --- |
| General Studies-I | 100 | 200 |
| General Studies-II | 100 | 200 |
Every student wants to score the best marks in the examination; exam pattern is the key. Applicants can check the prelim exam pattern and get the best marks in the exam.
JPSC Mains Exam
The Mains exam is an offline paper-and-pencil test with 6 papers totaling 1050 marks that must be finished in 3 hours. More information about the JPSC Mains exam pattern is provided in the table.
| Paper | Name of Subject | Maximum Marks |
| --- | --- | --- |
| Paper I | General English and General Hindi. | 100 |
| Paper-II | Language and Literature | 150 |
| Paper III | History and Geography | 200 |
| Paper IV | Indian Constitution and Polity, Public Administration and Good Reforms | 200 |
| Paper V | The Indian Economy, Globalization, and their Sustainable Development | 200 |
| Paper VI | General Sciences, Environment, and Technology development | 200 |
| | Total | 1050 |
To get the best marks in the examination, it is essential to understand the exam pattern completely. The main exam pattern helps students understand the layout of the examination.
JPSC Exam 2022 Syllabus
Candidates must now attempt to understand the exam syllabus relevant to JPSC recruitment after having a thorough understanding of the exam pattern. Due to the Grade-I level of the jobs offered by the Jharkhand Public Service Commission, the exam is challenging to pass. The difficulty of the questions ranges from moderate to high, and the competition gets tougher as you advance through the rounds.
JPSC 2022: Syllabus Prelims
Candidates can check the syllabus and start preparing for their exams. The Prelims syllabus is vast, and it requires a lot of revision of the topics.
General Studies-I
History of India: Ancient India; Medieval India and Modern India.
Geography of India: General Geography, Physical Geography, Economic Geography, and Social & Demographic Geography.
Economic and Sustainable Development: Basic features; Sustainable Development and Economic issues.
Indian Polity and Governance: Constitution of India; Public Administration and Good Governance; Decentralization: Panchayats & Municipalities
General Science; Technology & IT; Agriculture
National & International Current Events
Jharkhand Specific Questions (General Awareness of its History, Society, Culture & Heritage)
Miscellaneous questions of general nature
General Studies-II
In this paper, Questions will be asked from Jharkhand General Knowledge
History of the state.
Important movement
The specific identity of Jharkhand
Literature and Literary people
People and Literature; dance; music; instruments tourist places; tribal
culture of the state
major educational institutions
Sports
Land-related Laws/Acts
Industries and resources
JPSC 2022: Syllabus for Mains
There are no optional papers in the JPSC Mains Syllabus. The following is a discussion of the JPSC Mains Syllabus's specifics:
Paper 1: General Hindi and General English(Qualifying)
Paper 1 is a qualifying exam; out of a possible 100 marks, each candidate must receive at least 30. The Mains Paper 1 of the JPSC exam will have two sections, including:
These two papers will be given equal weight (50 marks each). This examination measures a candidate's proficiency in more than two languages. This paper is broadly categorized into the following categories following the JPSC exam pattern:
Essay
Grammar
Comprehension
Precis
Paper 2 (Language and Literature)
The candidates attempting this paper can select from one of the following languages and literature:
Santhali Language and Literature
English Language and Literature
Oriya Language and Literature
Bengali Language and Literature
Urdu Language and Literature
Sanskrit Language and Literature
Hindi Language and Literature
Mundari Language and Literature
Kurux Language and Literature
Kurmali Language and Literature
Khortha Language and Literature
Panchpargania Language and Literature
Nagpuri Language and Literature
Khadia Language and Literature
Ho Language and Literature
Paper 3 (History and Geography)
Ancient period
Medieval Period
Modern Period
History of Jharkhand
Physical Geography (General Principles)
Physical and Human Geography of India
Natural Resources of India: Development and Utilization
Geography of Jharkhand and utilization of its resources.
Population
Industrial and Urban Development
The pattern on Urban Settlement and Pollution problems.
Paper 4 (Indian Constitution and Polity, Public Administration and Good Reforms)
Preamble, salient features of the Indian constitution, Fundamental Rights
and Duties, Directive Principles of State Policy
Union Government (Executive and Legislature)
Judiciary
State Government (Executive, Legislature, Judiciary, Panchayats and
Municipalities)
Center-state relations
Special provisions relating to the administration of Scheduled Areas and
Scheduled Tribal Areas.
Emergency provisions of the Constitution
Election Commission of India
Political parties and pressure groups
Public Administration – Meaning, scope, and significance
Public and private administration
Union Administration – Central Secretariat, Cabinet Secretariat, Prime
Ministers Office, Planning Commission, Finance Commission
State Administration- State Secretariat, Chief Secretary, Chief Ministers
Office
District Administration – Origin and development of the office of District
Magistrate and Collector, changing role of the District Collector, the impact
of the separation of the judiciary on district administration
Personnel Administration – Recruitment of civil services, Union Public
Service Commission and State Public Service Commission, training of civil
servants, leadership and its qualities, employees' morale and productivity
Delegation, Centralization, and decentralization of authority
Bureaucracy – its merits and demerits, the role of bureaucracy in policy
formulation and its implementation; nexus between bureaucracy and
political executive; generalist versus specialist
Development administration
Disaster Management- causes, mitigation, classification of disasters,
immediate and long-term measures
Good governance – Lokpal, Lokayukta, Central Vigilance Commissioner,
grievance redressal, right to service act, right to information act, right to
education act, consumer protection act, domestic violence against women
(Prevention) act
Human Rights – concept, meaning, universal declaration of human rights,
National Human Rights Commission, State Human Rights Commission,
terrorism, social issues
Paper 5 (Indian Economy, Globalization, and Sustainable development)
National Income – elementary concepts of national income and methods of its calculation, for example – GDP, GNP, NDP, NNP, GSDP, NSDP, DDP at
Constant and current prices, at factor cost, etc.
Inflation – Concept, control of inflation, monetary, fiscal, and direct measures.
Demographic features
Agriculture and Rural economy – green revolution, white revolution, rainbow revolution, WTO
Industrial economy – policy initiative and changes
Public finance – the scope of public finance, principles of public finance, taxation, Public expenditure, Budget
Fiscal policy- center and state fiscal relationship, the role of the finance commission
Structure of Indian monetary and banking system in India.
Indian Trade, Balance of Payment
Meaning and measurement of Economic development; characteristics of underdevelopment, indicators of development: HDI, GDI, India's HDI progress.
Role of Foreign capital and technology in the growth of the economy
Sustainable development – concept and indicators of sustainable
development, economic, social, and environmental sustainability, the
concept of GDP
Development status and issues about socially and economically marginalized sections, like ST, SC, religious minorities, schemes launched by the Central/State Government.
Poverty and Unemployment: Measurements and trends, identification of
BPL families, Multidimensional poverty index.
Food and nutritional security – trends in food production and consumption in
India, the problem of food security problems, issues of storage, procurement, distribution, import and export. Government policies,
schemes, and programs such as Public Distribution System, Mid-day
meal schemes, and government policies for food and nutritional security.
New economic reforms – Liberalization, Privatisation, Globalization, good
understanding of International Finance Institutions like IMF and World Bank;
World Trade Organisation
Financial and Banking sector reforms, economic reforms, NABARD, RRB
Globalization of Indian Economy – its positive and negative impacts on
different sectors, issues of FDI, and FII in India.
Agriculture sector – Growth, Issues of subsidies, and public investment in agriculture
Industrial development and economic reforms in India – major changes in
Industrial policy, its impact on industrial growth, the role of the public sector
enterprises in India's industrialization in post reforms period, disinvestment
and privatization of public enterprises.
Paper 6 (General Sciences, Environment & Technology Development)
Basic knowledge of systems of units like MKS, CGS, SI.
Topics on Speed, velocity, gravity, mass, weight, force, impact, work, power
and energy.
Covers topics related to the solar system.
Concepts concerning sound, wavelength frequency, infrasonic and ultrasonic sound characteristics and applications.
Concepts on the living world, cell structure, its functions, diversity of organism, biomolecules, cell reproduction.
Medallion inheritance, theories of the evolution of life on earth, including human evolution.
A good understanding of the agro-climatic conditions of Jharkhand, rainfall pattern and abiotic stresses in each zone.
Knowledge of Food and horticultural crops of Jharkhand, understanding the need behind the diversification of crops, nutritional security due to the onset of climate change, the role of rainwater harvesting in improving agricultural production, and fish farming.
Candidates are required to have sound knowledge of Soil fertility; measures are undertaken to improve soil health, organic farming, agroforestry, wastelands, and government schemes to help the state's farmers.
The Government of India took measures to preserve the environment to tackle global environmental issues, air pollution, and water pollution.
Understanding of numerous environmental laws.
Candidates' knowledge on Biodiversity hotspots and threats to biodiversity hotspots.
Indian Government policies concerning Nuclear technology focus on global nuclear policies.
Plans made by the Government to meet the energy demands of the country through various renewable and non-renewable sources of energy.
A good understanding of the Indian Missile program, and the space program.
Knowledge of the latest developments in Information Technology challenges faced due to Cybercrimes.
JPSC 2022 Admit Card
On the JPSC website, a notice announcing the download link for the admit card will be posted. Candidates must periodically check for updates. The candidate must always have the admit card with him; otherwise, he risked being barred from taking the test. It is advised that candidates cross-check all information on the admit card with their personal information, such as name, address, registration number, etc. The exam center/venue and the full address of the exam center are also shown on the admit card.
FAQs
Does the JPSC exam take place every year?
JPSC exams are administered by the Jharkhand Public Service Commission to select Class-I and Class-II officers for various administrative positions within the Jharkhand State Government. The recruitment exam is held annually for Class I and II positions in Jharkhand.
How many times are we allowed to take the JPSC exam?
According to the JPSC Civil Services eligibility requirements, there are no limitations on how frequently candidates may apply for the JPSC Civil Services exam. Candidates may apply for the position from the minimum age of 21 to the maximum age of 35, according to JPSC.