The Bihar Public Service Commission (BPSC) will hold the BPSC Head Teacher 2022 Exam to fill 40,506 vacancies throughout the state in Primary And secondary schools under the Education Department of the Government of Bihar. This article will explain all the head teacher recruitment in Bihar.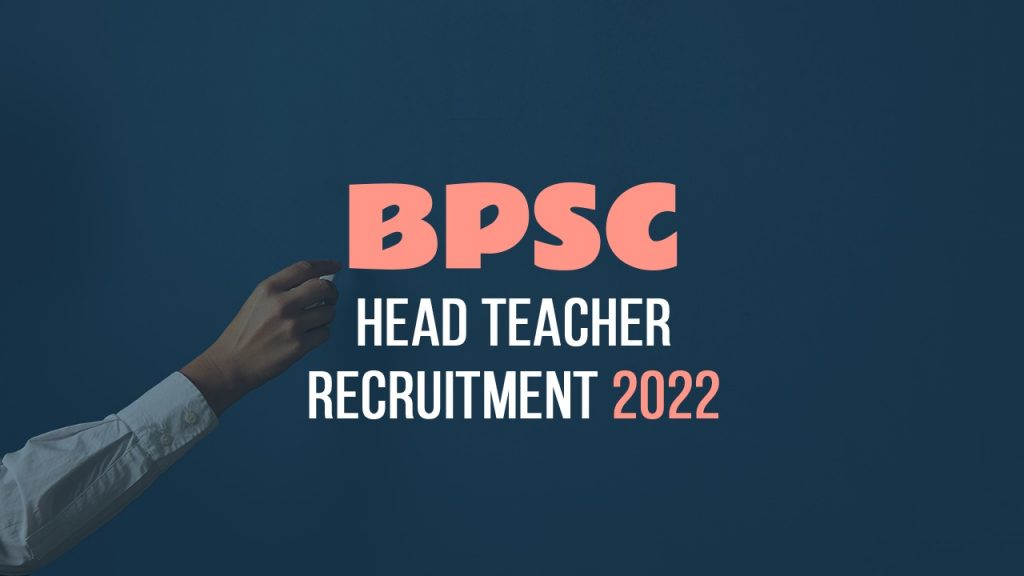 A notification about BPSC's Head Teacher Recruitment 2022 was announced on March 23, 2022. The online application for the Head Teacher position closes on May 20, 2022.
BPSC Head Teacher 2022 Highlights
The Bihar Public Service Commission (BPSC) conducts the Head Teacher Exam 2022. Check out the following table for more details.
| | |
| --- | --- |
| Commission Name | Bihar Public Service Commission (BPSC) |
| Name of the Exam | BPSC Head Teacher Recruitment 2022 |
| Total Seats | 40,506 |
| Category | Recruitment |
| Availability of Application Form | 28th March 2022 |
| Application Form Mode | Online |
| Selection Procedure | Written Test & Interview |
| Sector | Teaching |
| State | Bihar |
| Official Website | bpsc.bih.nic.in |
BPSC Head Teacher Eligibility Criteria
Before applying for the position, all interested applicants must review the eligibility criteria for the examinations.
Applicants must be of Indian nationality and Bihar residents.
Graduate from a recognized university with at least a 50% average.
For applicants from the SC/ST/EWS/BC/Female/EWS categories, the minimum graduation mark must be 45 percent.
D.El.Ed/ B.T/ B.Ed/ B.A.Ed/ B.Sc.Ed/ B.L.Ed required.
The candidate's age should not be more than 60 years old.
(According to the rules, age relaxation applies to the eligible categories.)
Experience:
The candidate must have at least 8 years of teaching experience in panchayats or urban elementary schools.
Graduate Panchayat Raj teacher whose services have been attested.
BPSC Application Fees
A table is provided below for candidates to check out the fees associated with BPSC Online Application Forms. The application fee for Candidates belonging to General and OBC Categories is ₹750, and for SC, ST, and PH candidates, it is ₹200.
| Category | Fees |
| --- | --- |
| General, OBC, Other State | Rs. 750/- |
| SC, ST Candidates | Rs. 200/- |
| PH Candidates | Rs. 200/- |
Important Documents for BPSC Head Teacher
All candidates applying for the position of headteacher must submit some essential documents along with their application form. The following is a list of documents that candidates must upload.
Class 10th mark sheet
Class 12th mark sheet
Caste certificate
Birth certificate
Graduation mark sheet
PH certificate (If any)
Experience certificate
Any government-issued certificate
How to Apply for BPSC Head Teacher 2022?
First, go to the Bihar Public Service Commission Portal's official website.
Now, on the homepage, click the Apply Online link.
After that, you must register to create your login.
Choose the link for the BPSC Head Teacher Recruitment Notification.
Fill in all the essential information in the form.
Recheck all of your information and submit the registration form.
Please apply to complete its registration. Keep the reference number for future use.
BPSC Head Teacher 2022 Exam Pattern
BPSC Head Teacher Recruitment Exam Pattern 2022 can be understood by checking the following table. The candidates have 2 hours to solve 150 questions for 1 mark each. A marks deduction of 0.25 marks will be applied for each incorrect answer.
| | |
| --- | --- |
| Type of Questions | Objective Types Multiple Type Question |
| Total Number of Questions | 150 questions |
| Total Marks | 150 marks |
| Marks Division | General Studies – 75 marks D.El.d – 75 marks |
| Marking Scheme | 1 mark awarded for each correct answer and 0.25 will be deducted for each wrong answer |
| Exam Duration | 2 hours |
BPSC Head Teacher 2022 Syllabus
Every student wants to achieve the best marks in exams, and after knowing the exam pattern, you can start preparing it with the syllabus. Moreover, we all know that the syllabus is the only key to getting the best exam marks.
| Subject | No. of Questions | Marks |
| --- | --- | --- |
| Section – I General Studies | 75 | 75 |
| Section – II D.El.Ed. | 75 | 75 |
| Total | 150 | 150 |
Section – I General Studies
General Science
Current events of national and international importance
Indian National movement and the part played by the Bihar in it.
Geography
Indian Polity
Elementary Mathematics and Mental ability test
Section – II D.El.Ed. (Unit 1)
Children and childhood: social, cultural and historical understanding.
Reference to child rights: With special discussion on children coming from marginalized sections
Education, School, and Society: Understanding the Interrelationships
Process of Socialization in School: Understanding the Role and Effects of Different Factors
Education: General Concept, Objectives and Nature of School Education
Different bases/approaches to understanding education: Philosophical, Psychological, Sociological, Literature of Education, History of Education, etc. Concept of Knowledge: Philosophical Perspectives
Section – II D.El.Ed. (Unit 2)
Mahatma Gandhi-Hind Swaraj: Outlining the relationship between social philosophy and education
Gijubhai Badheka – Daydreaming: Outlining the idea of ​​experimentation in education.
Rabindranath Tagore – Education: Underlining the role of independence and autonomy in learning
From the book Maria Montessori-The Receptive Mind, Chapter titled 'Sequences of Development': Outlining the Special Method in relation to children's learning.
Statement given to Jyotiba Phule-Hunter Commission (1882): Outlining educational, social and cultural inequality
Dr. Zakir Hussain-Educational Articles: Underlining the Importance of Child-Centered Education
J. Krishnamurthy – 'What is education: underlining the role of dialogue in teaching-learning'
Article titled 'Education as a necessity of life' from John-DV-Education and Democracy: Outlining the Interaction of Education and Society
Section – II D.El.Ed. (Unit 3)
Curriculum and Curriculum: Concept and Miscellaneous Basis
Role of Work and Education in Curriculum: The Problem of Focused Pedagogy
Psychosocial factors affecting childhood
Child Development: Concept, Different Dimensions of Development, Influencing Factors
Growth and Development: Understanding of Interrelationships, Methods of Study
Understanding the physical and cognitive development of children.
Creativity: Concept, special importance in the context of children
Meaning of play: Concept, characteristic, importance in the context of children's development
Various Dimensions of Personality Development: Special Reference to Erikson's Theory
Aspects of Emotional Development in Children: John Balby's Theory and Other Ideas
Moral Development and Children: Concept of Right and Wrong, Theory of Jean Piaget and Kohlberg
Section – II D.El.Ed. (Unit 4)
Need and purpose of ECCE
Understanding of a contextualized and balanced ECCE curriculum
Short & Long Term Objectives and Planning of ECCE Curriculum
Creating a child-centred, development-friendly, and inclusive classroom environment
Different dimensions of development and learning in the early years
Children with special needs (disabled) and early childhood care and education
Physical Education: Concept and Importance
Current Status of Early Childhood Care and Education in Bihar
Challenges and Innovations of early childhood education in Bihar
Academic and Social expectations of institutions in the preparation of schools in Bihar
Section – II D.El.Ed. (Unit 5)
Organizational Aspects of School Culture: A Critical Understanding of Concept, Structure and Components
Changes in the school system under the Right to Education
School organization and management in line with inclusive education
Change in school environment and classroom teaching through art integrated education?
Nature of classroom teaching: Traditional, child-centred, democratic, creative, etc.
Co-curricular and Co-Scholastic Activities: Importance, Planning and Implementation (Activities, Arts, Sports etc.)
System of Assessment and Evaluation in School: Continuous and Comprehensive Assessment, Progress Sheet
Teacher Professional Development: Concept, Need, Policy Discussion and Limitations
School Leadership and Teachers: Administrative, Collective, Pedagogical, Transformational
Section – II D.El.Ed. (Unit 6)
Nearby District Level Institutions: Cluster Resource Center (CRC), Block Resource Center (BRC), District Institute of Education and Training (DIET), College of Elementary Teacher Education (PTEC)
State Level Institutions: State Council of Education Research and Training (SCERT), Bihar Education Project Council (BEPC), Bihar School Examination Board (BSEB), Bihar Sanskrit Education Board (BSSB), Bihar State Madrasa Education Board (BSMEB), Bihar Board of Open Schooling and Examination (BBOSE)
National Level Institutions: National Council of Educational Research and Training (NCERT). Central Board of Secondary Education (CBSE), National Institute of Educational Planning and Administration (NIEPA), National Council for Teacher Education (NCTE).
Section – II D.El.Ed. (Unit 7)
Different forms of inclusion and exclusion in Indian society (marginalized society, gender, children with special needs-disabled persons)
Understanding Diversity and Inequality in Classrooms: Curricular and Pedagogical Context
Nature and Process of Assessment for Inclusive Education
Reference to Children with Special Needs in Inclusive Education: Historical Development, Present Situation, Challenges, Context of Bihar
Gender discrimination prevailing in the education system and school: with special reference to curriculum, textbooks, classroom processes, student-teacher interaction
Role of Education in Gender Sensitivity and Equality
Education for Equity, Equality and Social Justice: Concepts, Needs and Constraints
The identity of teachers: Contemporary discourse, Concept of an ideal teacher
Section – II D.El.Ed. (Unit 8)
National Curriculum Framework – 2005 and Bihar Curriculum Framework – 2008 with special reference to science, environment, mathematics, language and social science in front of pedagogy
Importance and use of audio-video, and multimedia tools in teaching-learning
Integration of ICT with the plan of Learning planning and school
FAQs
How many positions are available in BPSC Head Teacher 2022?
There are a total of 40,506 BPSC Head Teacher vacancies in primary schools.
In BPSC Head Teacher Recruitment 2022, will there be a negative marking system?
Yes, 0.25 marks will be deducted for each wrong answer.
What is the salary of BPSC?
A BPSC employee's basic salary is INR 30,000, and the gross salary includes all allowances, so the total salary is INR 45,000. In the beginning, BPSC posts will pay a maximum salary of 72,000 rupees.