RPSC
RAS 2022: Exam Dates, Eligibility, Admit Card, Pattern
Rajasthan Administrative Services is managed by the Rajasthan Public Service Commission (RPSC). The RAS examination is a state civil service exam conducted by the RPSC at several exam centers throughout the state. This article will discuss all important information regarding the Rajasthan Administrative Service 2022 Exam, including Exam Date, Eligibility, Admit Card, and Preparation tips.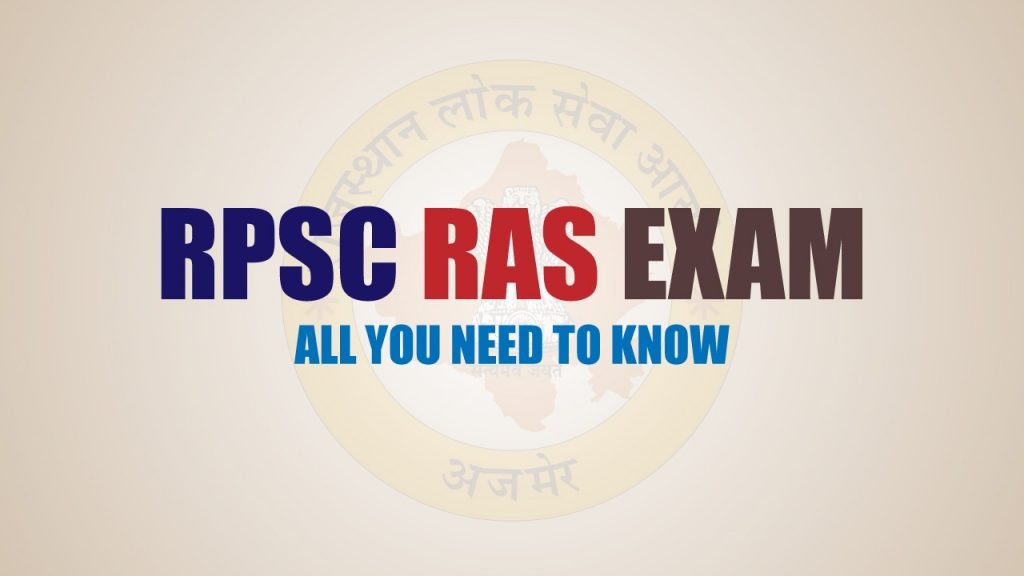 The Rajasthan Administrative Service exam requires applicants to meet specific requirements before applying. To ensure a good result, candidates should prepare for the exam according to the given syllabus and exam pattern. Candidates may find essential details about Rajasthan RAS Recruitment 2022 here, such as application form, deadlines, qualifications, test patterns, etc.
Overview of RAS 2022
In the table below, you will find important information regarding RPSC RAS 2022.
| Particulars | Details |
| --- | --- |
| Name of the Exam | Rajasthan RAS Recruitment 2022 |
| Conducting Authority | Rajasthan Public Service Commission |
| Exam Stages | Preliminary, Mains, Interview |
| Level of Exam | State Level |
| Mode of Application | Online |
| Official website | rpsc.rajasthan.gov.in |
| Exam Duration | 3 hours |
| Exam Languages | English and Hindi |
RAS Eligibility Criteria
In order to apply, candidates must meet primary eligibility standards set by the Rajasthan Public Service Commission.
The applicant must be a citizen of India.
Candidates must hold a bachelor's degree from a nationally Central or State university.
The applicants must be between the ages of 21 and 40.
Those who fit into the reserved group are eligible for 5 years of relaxation.
Candidates in general PH are eligible for a ten-year age reduction.
Candidates in the OBC (PH) and SC/ST (PH) categories can request a 13-year and 15-year age relaxation, respectively.
Uploading Documents Guidelines
Photograph size: 50 kb – 100 kb
Signature size: 10 kb – 50 kb
Educational documents must be less than 3 MB in size.
If any, certificates of experience (if) must be under 1 MB in size.
All of the papers mentioned above must be scanned files.
The signature and photograph must be in.jpg,.jpeg,.png, or.gif format.
The signature must be written entirely, not just in initials or capital characters.
How to apply online for the RPSC RAS 2022 recruitment?
To apply for the RAS 2022 exam online, follow the below-mentioned instructions.
Go to the official website and look under "Recruitment Portal" for the exam name.
Use a valid email address and phone number to sign up.
Fill in the appropriate and mandatory fields on the RAS application form 2022.
Before making a payment, you must first upload the required scanned photo and signature.
A unique RAS Application Id will be generated once the applicant has completed the application form and paid the fee.
For future reference, save a duplicate of the RPSC application form 2022.
RAS Application Fees
Each type of student has different application fees. Before applying, students should review the following information to determine how much they should pay.
| RPSC RAS Category | RPSC RAS Application Fee |
| --- | --- |
| General | Rs. 350 |
| Scheduled Caste (SC)/ Scheduled Tribe) | Rs. 50 |
| Other Backward Class (OBC) | Rs. 250 |
RAS 2022 Exam Pattern
Prelims, Mains, and Interviews are the three stages of the RPSC Rajasthan Administrative Service examination. Before beginning their study, candidates should familiarize themselves with the most recent exam pattern to ensure that their preparation is focused on and practice tests.
RAS Prelims Exam Pattern 2022
The RPSC RAS Prelims Exam is an objective-type paper with 200 marks and a time limit of three hours.
There will be 150 multiple-choice (Objective Type) questions with equal marks.
There will be negative marking for each incorrect answer 1/3 mark will deduct.
| RAS Prelims Exam Paper | Total Marks | Total Time |
| --- | --- | --- |
| General Knowledge and General Science | 200 marks | 3 hours |
RAS Mains Exam Pattern 2022
There are four papers in the RAS Mains exam. You need to complete each within three hours, with 200 marks for each paper. It will be a descriptive examination.
| RAS Mains Exam Paper | Total Marks | Total Time |
| --- | --- | --- |
| Paper-1: General Studies-I | 200 marks | 3 hours |
| Paper-2: General Studies-II | 200 marks | 3 hours |
| Paper-3: General Studies-III | 200 marks | 3 hours |
| Paper-4: General Hindi and General English | 200 marks | 3 hours |
| Total | 800 marks | |
RAS Interview 2022
The personal interview is worth 100 marks. Candidates who have been shortlisted based on their performance on the main exam will be invited to an interview. Furthermore, exam results will be calculated according to their overall performance.
RAS 2022 Syllabus
Students should be familiar with the Rajasthan Administrative Service exam syllabus to understand the exam better. Therefore, the exam syllabus for the RAS is detailed here.
RAS Prelims Syllabus 2022
Candidates looking to score best in exams need to know the whole syllabus deeply. Everyone must agree that the syllabus is the only key to getting the desired scores in the exams. Look at the syllabus of Prelims exams for RAS 2022. Here is the Exam complete syllabus, that you should keep in mind as you prepare for the exams.
Check the detailed syllabus of RAS Prelims Examination 2022
RAS Mains Syllabus 2022
RPSC candidates who clear the preliminary exams will be able to sit for the mains exam. The Mains exam determines whether a candidate is selected. As the final selection is determined by the marks obtained at the Mains and the interview. As you prepare for the exams, you should keep the RPSC Rajasthan Administrative Service Exam complete syllabus.
Check the detailed syllabus of RAS Mains Examination 2022
You can easily get the score good in exams without coaching. Read How to Prepare RPSC RAS Exam without Coaching at Home?
FAQs
Does RAS occur every year?
Yes, the entrance exam is conducted annually in both English and Hindi.
Is the salary of a RAS officer low?
RAS officers of RPSC receive in-hand salaries between INR 61,000 and 66,000.
Which publication is the most suitable for RAS?
Aspirants should read publications such as The Hindu, Rajasthan Patrika, Dainik Jagaran, and others for current events. There are also periodicals such as Yojana, Kurukshetra, and Pratiyogita Darpan.