The Haryana Staff Selection Commission will conduct the Common Eligibility Test (CET) for recruitment in Group C, Group D, and non-gazetted areas throughout the state. Now, interested applicants can register for the exam online at hssc.gov.in. To qualify for the Haryana CET test, aspirants need to know a few valuable strategies.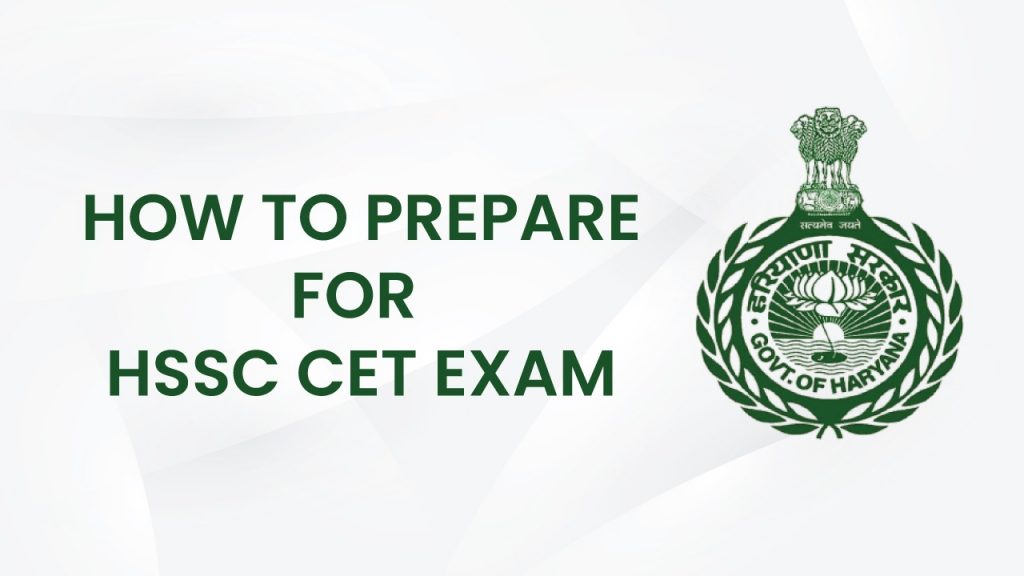 The official website provides candidates with access to it. This article will teach you how to prepare for the Haryana CET Exam 2022.
Haryana CET Exam 2022 Highlights
The essential exam information is provided below for those who intend to take the exam:
| PARTICULARS | DETAILS |
| --- | --- |
| Name of the Organization | Haryana Staff Selection Commission |
| Exam Level | Haryana- State Level |
| Mode of Application | Online |
| Exam Duration | 90 Minutes |
| Language | English or Hindi |
| Official Website | https://hssc.gov.in/ |
HSSC CET Exam Pattern
There will be 100 MCQ-style questions in the Haryana CET test, each worth one mark. There will be no negative points and a total time limit of one hour and thirty minutes. The total of all the correct answers you marked on the exam will represent your final score. Below is a breakdown of subject weighting.
| | | |
| --- | --- | --- |
| Subjects | No. of Questions | Marks |
| General Awareness, Mathematics, Science, Reasoning, Computer, English, Hindi, etc. | 75 | 75 |
| Haryana General Knowledge | 25 | 25 |
| Total | 100 | 100 |
Haryana CET Exam 2022 Preparation Books
When choosing a book for your preparation, be sure it covers all the topics listed in the board's official syllabus. Selecting a quality Haryana CET book can assist you in passing the exam effortlessly and securing a seat among the many openings.
And also, keep your study resources limited so that you can prepare and revise it multiple times. Moreover, this makes your journey easy to Prepare Haryana CET Exam.
Book Name
Author/ Publications
Ancient and Medieval India
Poonam Dalal Dahiya
Indian History
Magbook
Geography- A Comprehensive Study
Mahesh Kumar Barnwal
Facets of Indian Culture
Spectrum's Publication
Haryana Current Affairs
Pradeep Sir, Sandeep Khasa Sir/ Arihant Publication
Quick General Knowledge with Current Affairs Update May 2021-2022
Disha
Objective General English
R.S. Aggarwal, Vikas Aggarwal
Computer Fundamentals
Pradeep k. Sinha
Priti Sinha
Computer Basics
V & S Publishers
Analytical Reasoning and Logical Reasoning
Arihant Publication
Verbal and Nonverbal Reasoning
R.S. Agarwal
Preparation Strategy for Haryana CET Exam
Start preparing for the Haryana CET because the Haryana Staff Selection Commission anticipates holding the test in June 2022. (HSSC). To qualify for the Haryana CET test, aspirants need to know a few valuable strategies.
1. Understand Exam Pattern and Syllabus
This is the first step you've to do before starting preparation for CET or any other exam you want to appear. This will help you to understand your goal and also help you in make a strategy for preparation.
2. Previous Year's Question Papers.
Previous Year's Question Papers are helpful in understand question pattern asked by the commission. However, this year National Testing Agency will conduct the examination, so it will be good idea to analyze their question patter. You can do this by finding out previous exam conducted by NTA and questions asked for example SSC.
This will also place you at a higher level than others. As now you already knew the type of questions will appear in the examinations. And how much you've to prepare to crack the examination. Along with NTA question, you can't miss the HSSC previous year question papers.
3. Make your own plan.
This is the key for all type of problems. As lakhs of candidates will appear in the examination and e
Solve previous year's exam papers: Understanding the exam structure and implementing your study plan are made easier with the aid of the last year's exam papers for the Haryana CET exam.
Review the course syllabus: Keep the syllabus close to reaching as you study for the exam. It will help you decide which subject is more crucial for the exam and all the courses and topics you need to learn.
Make a schedule: Maintain a strict study regimen as you prepare for the exam. Find out when the time of day you are the most awake. Additionally, plan breaks so that you can rest.
Look at the newspaper: it will help you keep up with current affairs. All applicants for government examinations should establish a routine of reading the newspaper.
4. Determine your strengths and weaknesses: 
Knowing your strengths will help save time and improve your score on the timed CET exam. Making your flaws into strengths and developing your strengths becomes crucial in the drive to succeed. Be sure to practice the subjects or subdivisions in which you lack confidence.
But the question is, how you will understand your weak points? Then I've answer for this, you've to go for Test Series. With the help of test series you can analyze your preparation and also weak areas of your preparation
Online test series also help you in determining your rank on the state level.
5. Keep Resources Limited
After analyzing syllabus and previous year papers, you've to make plan, collect study material. Once you decided and finilze the study material then keep stick to it. No matter, what other suggest to you.
You only know why you choose the study material. And finalize your preparation with that study material only. And after completing the preparation, don't forget to attempt test seri
The DHURINA team is here to help you if you seek the same help as other candidates. Each candidate rushes to coaching after learning the syllabus details and makes preparation plans. You will achieve the highest scores possible with our Haryana CET complete course.